Keep your business ongoing, stay compliant and prevent frauds from happening without engaging your employees.
The eKYC (electronic Know Your Customer) process enables financial services to verify a customer's identity fully remotely with automated decision-making algorithms.
Ailleron eKYC allows for bank-grade secure and eIDAS compliant customer onboarding, authentication and contracting processes of a remote individual's identity verification with multiple fraud prevention techniques. AI-powered identity verification technology delivers accurate results in near real-time and helps in:
onboarding of new customers
signing a contract with electronic signature
updating data of existing customer
make periodical information checks.
Ailleron eKYC can be also used as a part of multifactor customer authentication.
Online decisions safer than ever
For years, online transactions and operations were prone to fraud and identity theft. The latest eKYC technology can make this more secure and properly address customers' concerns.
Advanced algorithms combined with AI-based video ID verification and an option to read RFID chips in modern ID documents create a powerful KYC verification tool that your institution can rely on.
Customer-friendly procedure
eKYC does not require any specialized devices. The only thing your customer needs to verify his or her identity is a smartphone with a camera that our eKYC uses to perform AI-based video ID verification. The entire process is available 24/7 – no branches, no queues and no waiting.
Modular & configurable identity verification process
The financial institution manages the order of the steps according to their customer's journey.
Advanced technologies
Our eKYC module was built based on the latest technologies compliant with banking security standards. It includes IDENTT biometrics based on high-capacity machine learning engines with neural networks. In addition, there's the option to read RFID chips in modern ID documents and to use autonomous decision engine. AI algorithms are already trained on over 5 million European customer faces.
Multiple applications
The eKYC procedure can be used for various purposes, such as onboarding of new customers, sales processes, customer data update for periodical checks and multifactor customer authentication. Your institution decides which one it needs to use at any given moment!
Improved process efficiency
Are your advisors flooded with additional tasks? Not anymore. Advanced automated modules in eKYC allow customers to complete processes without human support, reducing time of service, margin of error and the costs of every operation.
Quick document signature
Ailleron eKYC can be equipped with our Cryptographic Authentication Server to speed up document signature process to even less than 10 seconds just with 3 taps on the screen. This significantly increases the conversion rate in sales compared to other options (i.e. document delivery by a courier or in branch).
Link to external and internal AML databases
Our eKYC solution is connected with relevant international sanctions lists, PEP lists and the Lost and Stolen documents database. Integrations with additional external and internal databases used by a financial institution in AML and risk detection processes are also possible. In addition, eKYC can be equipped with a forbidden face module that can detect false IDs with faces used in forged documents or the same face used with different identity data.
International coverage
eKYC is trained to verify the validity and genuineness of all existing generations of ID documents (ID cards, passports and driver's licenses) that are currently in use in Europe, North America, the LATAM region and selected APAC and African countries. It recognizes characters in Latin, Cyrillic and Greek. It is capable of reading OCR zone, MRZ, both 2D, QR codes and data from RFID chips e.g. those implemented in new EU IDs. Therefore, you can apply our solution in almost any location, improving your services and reducing costs.
User-friendly back-office
Your employees will appreciate eKYC as much as your customers. Apart from reducing the amount of work to be done, eKYC also offers a back-office application with rich, no-code parametrization options and details of all checkpoints per verification session, allowing advisors or auditors to verify doubtful cases or confirm system decisions when necessary.
Approved by financial institutions
and compliant with eIDAS.
Ailleron eKYC is powered by the IDENTT engine, which is responsible for:​
facial biometrics​
liveness checks​
document OCR and RFID data extraction
document verification​
IDENTT is a Hamburg-based digital authentication company with more than 20 years of experience in document and bank note verification services. ​IDENTT Knowledge® is a database of security features for ID documents & banknotes used in 194 countries.​ The company's services are based on high-capacity machine learning engines with neural networks that use real-time identity fraud risk scores and data curation strategies.
The IDENTT solution engine is already present in 10 European banks and leasing companies throughout the EU, with 5 million verification sessions having been processed at the end of 2021.
The Ailleron eKYC module can be installed on premises within the bank's infrastructure
Provide your customers with automated verification, taking less than 2 minutes of their time, all thanks to the years of experience and advanced skills used to develop the eKYC module combined with exceptional technologies.
Do not leave your customers on their own in a world full of fraud and threats. Begin your journey with eKYC now and prevent security breaches from happening.
Contact us now and see how eKYC could benefit the growth of your organization.

Maciej Kasprzak
General Manager Financial Technology Services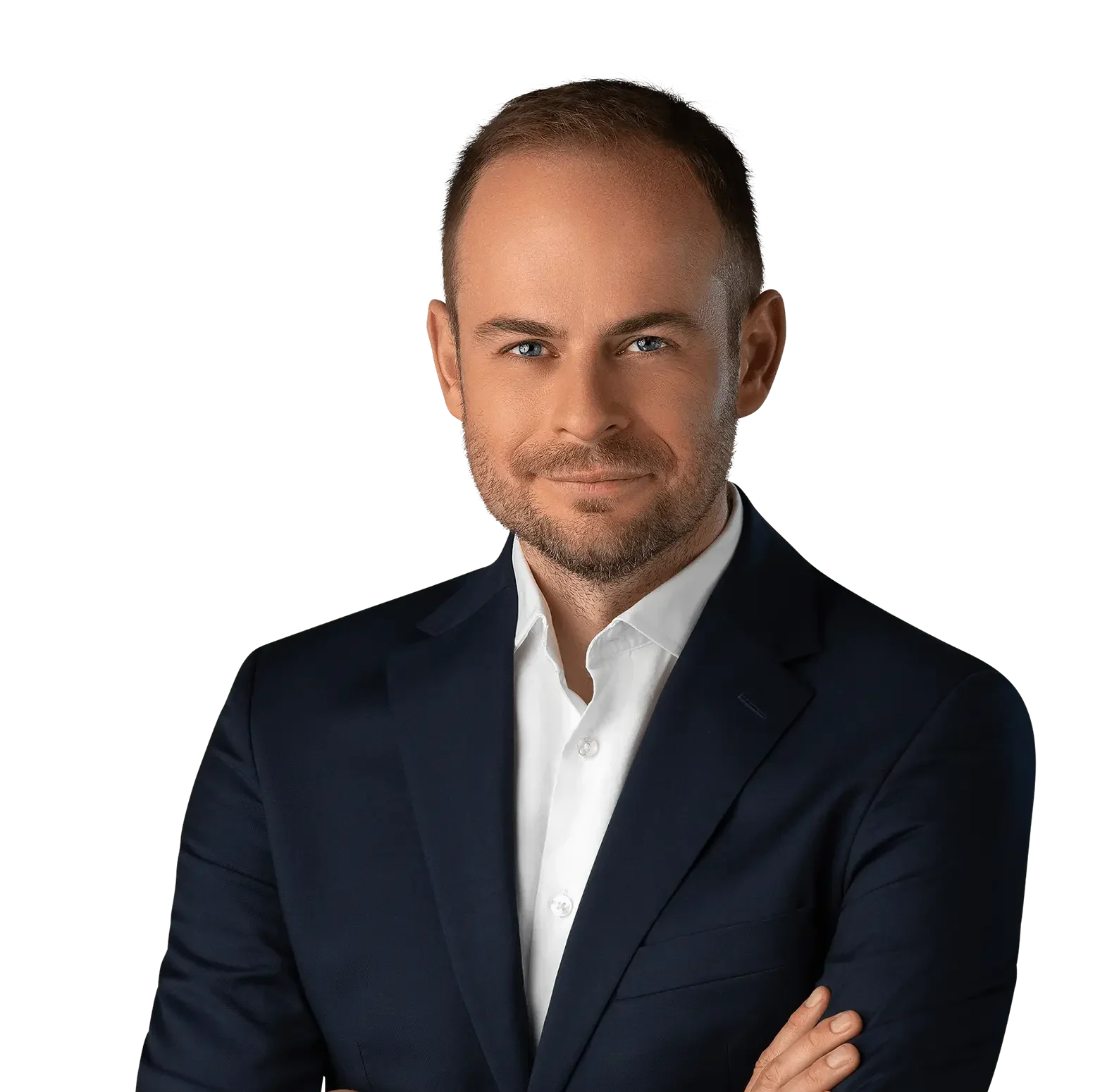 Tell us what you need and we will contact you shortly.

See what our clients say
SGB Bank

Cooperation with Ailleron is a great opportunity not only to develop the SGB Mobile application but also to gain experience by both teams involved. Our goal is to implement new solutions and functionalities, optimizing processes and providing our customers with the best product. It all started with Design Sprint. Cooperation, commitment and passion always produce great results. In this case, they are reflected in SGB Mobile. The team's participation in creative workshops stimulates the imagination. Cooperation with Ailleron is a great opportunity not only to develop the SGB Mobile application but also to gain experience by both teams involved. Our goal is to implement new solutions and functionalities, optimizing processes and providing our customers with the best product. It all started with Design Sprint. Cooperation, commitment and passion always produce great results. In this case, they are reflected in SGB Mobile. The team's participation in creative workshops stimulates the imagination.

Artur Józefowski

Director of Mobile and Internet Banking Bureau

BNP Paribas Leasing Solutions

Particularly noteworthy is Ailleron's approach to designing digital products – they are committed, reliable and have the knowledge and experience. While creating the solution, we conducted numerous workshops and Design Sprints in project teams, which allowed us to develop the appropriate UX / UI of our platform. Ailleron responded very well to the difficulties we struggled with: we were looking for advanced integrations with the BNP Paribas Internet banking platform, the need to provide multiple IT environments or to provide a solution to clients over several sales channels. Thanks to the high quality of cooperation between both project teams, we managed to meet these challenges without any major problems. We can recommend cooperation with this supplier to all companies that put their clients in the spotlight and are looking for an innovative, qualitative approach in the context of creating modern solutions in the financial industry. Particularly noteworthy is Ailleron's approach to designing digital products – they are committed, reliable and have the knowledge and experience. While creating the solution, we conducted numerous workshops and Design Sprints in project teams, which allowed us to develop the appropriate UX / UI of our platform. Ailleron responded very well to the difficulties we struggled with: we were looking for advanced integrations with the BNP Paribas Internet banking platform, the need to provide multiple IT environments or to provide a solution to clients over several sales channels. Thanks to the high quality of cooperation between both project teams, we managed to meet these challenges without any major problems. We can recommend cooperation with this supplier to all companies that put their clients in the spotlight and are looking for an innovative, qualitative approach in the context of creating modern solutions in the financial industry.

Anna Jeleniewicz-Łada

HR Director

mBank

Cooperation with Ailleron, a company open to new challenges, actively adapting to the changing market environment, gives us a unique opportunity to build a new quality of service in Contact Center channels. We are glad that throughout subsequent years of cooperation, challenges and new ideas emerge, which we can develop and implement together, building a friendly, accessible and professional point of contact for mBank customers, which they can use to deal with every issue they have. Cooperation with Ailleron, a company open to new challenges, actively adapting to the changing market environment, gives us a unique opportunity to build a new quality of service in Contact Center channels. We are glad that throughout subsequent years of cooperation, challenges and new ideas emerge, which we can develop and implement together, building a friendly, accessible and professional point of contact for mBank customers, which they can use to deal with every issue they have.

Aleksandra Buczkowska

Contact Center Director

SGB Bank

The SGB Mobile application meets all market standards and is the first in Poland to use the capabilities of PSD2 and Polish API mechanisms on such a large scale. Both sides of this cooperation made every effort to create this mobile banking system so quickly and make it available to all banks in the association, regardless of their operating system. I can confirm that we have a product that is modern, safe, in line with the latest trends in interface design and, at the same time, is user-friendly and tailored to the needs of our customers. The SGB Mobile application meets all market standards and is the first in Poland to use the capabilities of PSD2 and Polish API mechanisms on such a large scale. Both sides of this cooperation made every effort to create this mobile banking system so quickly and make it available to all banks in the association, regardless of their operating system. I can confirm that we have a product that is modern, safe, in line with the latest trends in interface design and, at the same time, is user-friendly and tailored to the needs of our customers.

Błażej Mika

Vice President

Santander Leasing Polska

During the implementation of complex and multidimensional projects, competences are the key – without them, even the most sincere intentions will not help. Another important issue is the time to react to market trends and to implement innovations. Currently, the market is changing too quickly for a product to take too long for creation, because it will no longer carry out its most important task, which is to respond to the needs of customers or business partners. The last but not least important element is the high synchronization of group work, which is especially important when working remotely. Therefore, taking into account the above factors, the needs of our company and Ailleron's experience, we knew that we were betting on a proven business partner." During the implementation of complex and multidimensional projects, competences are the key – without them, even the most sincere intentions will not help. Another important issue is the time to react to market trends and to implement innovations. Currently, the market is changing too quickly for a product to take too long for creation, because it will no longer carry out its most important task, which is to respond to the needs of customers or business partners. The last but not least important element is the high synchronization of group work, which is especially important when working remotely. Therefore, taking into account the above factors, the needs of our company and Ailleron's experience, we knew that we were betting on a proven business partner."

Adrian Kaczmarek

Head of Digital Sales

Credit Agricole Bank Polska

Accurate description of customer paths allowed us to better understand our processes. Thanks to this, it became clear what we should focus on in order to provide our clients with the best possible experience. A fresh perspective, great cooperation and close contact. New value and quality for our customers and for the CABP team. Such projects inspire us to reach for more. Accurate description of customer paths allowed us to better understand our processes. Thanks to this, it became clear what we should focus on in order to provide our clients with the best possible experience. A fresh perspective, great cooperation and close contact. New value and quality for our customers and for the CABP team. Such projects inspire us to reach for more.

Agnieszka Spólnik

Chief Product Owner