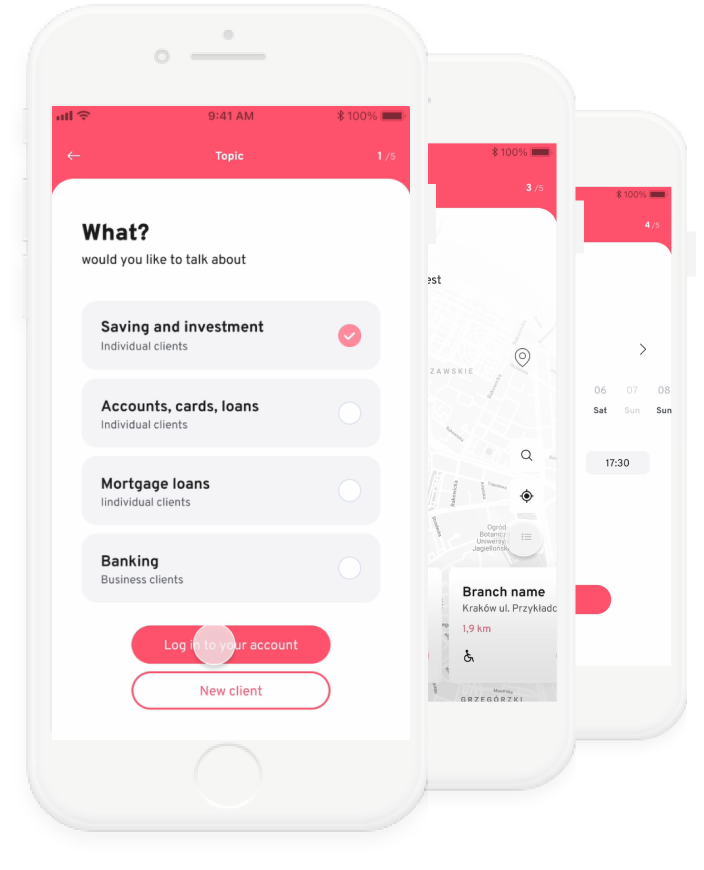 Deliver seamless hybrid CX across your contact channels
The Ailleron Appointment Manager uses the TIMIFY® engine to create engaging experiences throughout the entire customer journey – whenever, wherever, from any device! Deliver seamless in-branch and virtual customer experiences while providing your employees with the tools to reduce manual and admin tasks.
The Appointment Manager is an enterprise-grade IT solution for all types of financial services:

Retail Banking
Corporate Banking
Business banking

Leasing services

Credit card services

Payment services
Fintech
Turn scheduled appointments into positive customer experiences.
Let customers book meeting after working hours
80% of customers book appointments after office hours and over weekends with consultants who are experts in products the customers are genuinely interested in.
Use the appointment booking widget across digital channels
Convert contacts into more prospects by enabling booking through your contact channels: social media, e-mail, landing pages.
Manage customers with an appointment & ad-hoc traffic in branches
Apply our additional Timify Q customer line management software to efficiently manage customers coming into the branch without an appointment and those who booked an appointment to limit waiting time.
Make it easier for the consultant to be effectively prepared for the meeting
Use plug-ins to seamlessly integrate data with existing CRM, ERP, and office software. Use the shared data to provide a more personalized approach to clients – from introduction to a successful product sale.
Recommend the most effective contact channel for the client
Use popular technologies – like Teams, Zoom, Google Meet, and LiveBank® – to handle matters effectively at the right time without queues and annoying waiting times.
Schedule virtual meetings with clients using popular technologies
Go beyond appointment scheduling and manage customer experiences!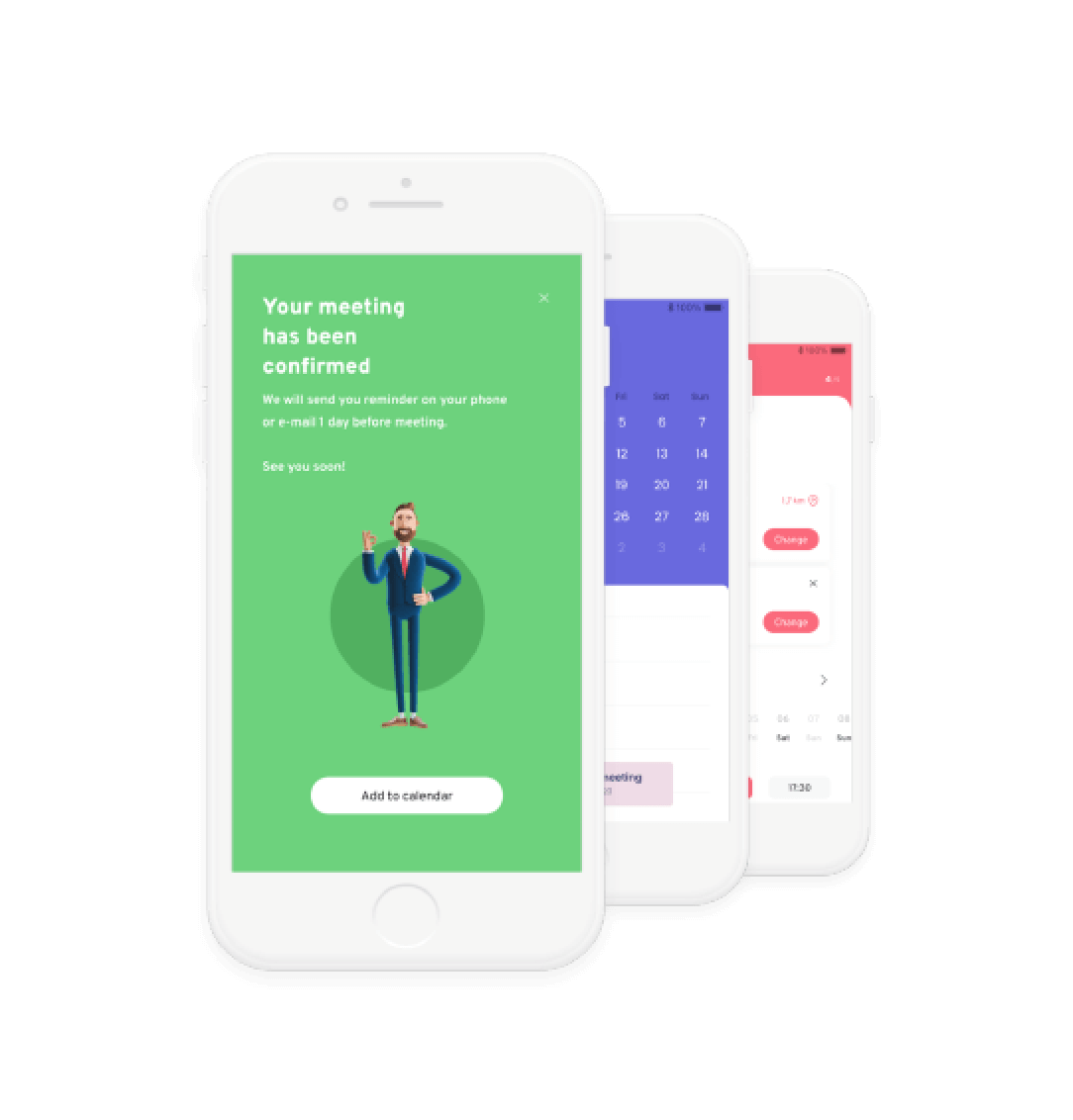 The functionality of the Appointment Manager goes beyond online bookings and allows for:
Appointment scheduling in branches or online for both private and business customers
Automatic resource management

Allocation of meeting rooms for appointments
Booking of "hot desks" with personalized working stations
Booking of any assets in a common pool: parking lots, company cars or e-bikes

Support of HR processes, including recruitment and interviews​
Managing internal and external events (including RSVP processes)
Delivering personalized experiences and driving engagement with Ailleron Appointment Manager

First class data protection
Personal data is protected to the highest standards and is compliant with GDPR and financial industry regulations​.

Omnichannel appointment booking
Get seamless scheduling for individual or group appointments from any touchpoint, be it in-branch or online.

Multi-location & branch management
Manage various locations and accounts simultaneously with our branch manager tool, providing real-time visibility of all relevant KPIs.

Effective resource management
Use your resources effectively and productively, whether it's personnel, equipment or premises. Manage shifts and schedules, holidays and sick days.

Customized booking process
Adapt the entire booking journey to your unique business requirements. Use customizable widgets in web RWD or mobile app SDK.
Video conferencing
Plan virtual meetings, team meetings and screen-sharing sessions at the touch of a button with the video app, Teams, Zoom, Google Meet and LiveBank.

Powerful insights​
Insightful reports across all business locations to increase productivity with data-driven resource allocation.​

Tailored integration with existing systems​
For CRM, HR, CC, ERP; plug-in interfaces with popular software and universal REST API. ​
In addition, Timify marketplace is available with a selection of complementary apps.​ incl. Timify Q or the fast "street light" customer survey after a meeting.

International availability
The Appointment Manager is available in 12 languages, including English, German, Spanish, French, Italian and Dutch, and can easily be rolled out in other languages. The system automatically adjusts to time zones.
Improve customer engagement strategies, and let's talk about how we can support your KPIs:
Grow appointment volume, both initiated by the customer (onboarding, product purchase) or the bank consultant (e.g. for cross-sell)
Advise customers on the most effective channel to handle a given issue
Reduce staff time spent on booking appointments or handling issues that can be done over a less costly channel
Reduce no-shows
Reduce queues and customer waiting time
Maciej Kasprzak
General Manager Financial Technology Services