Opis sytuacji biznesowej
SGB Bank is a cooperative bank that was looking for a way to create and enhance its digital experiences with new technologies tailored to the needs of the customers. As the affiliating bank for almost 200 associated cooperative banks it was seeking efficient solutions that can be implemented in just a few months and available to all the entities of SGB Group. Digital transformation has accelerated by COVID-19 pandemic, a factor that occurred during the project.
To solve its most pressing problems, SGB Bank begun a cooperation with Ailleron, aiming to improve performance and adjust to a dynamically changing market.
The Customer
SGB Group is one of the two cooperative banks associations in Poland. It consists of:
~200 cooperative banks
~1500 banking outlets
~4000 ATMs
~12000 employees.
SGB Bank provides its services to both individual and corporate customers, as well as companies from agricultural industry.
Currently, SGB Bank focuses on the development of its digital banking, including mobile application, mobile payments (BLIK, Google Pay, Apple Pay and others) and online banking. According to the bank, the aim of this strategy is to put customers' needs first and provide him with safe and reliable solutions of the future.
IT Systems in SGB Bank
The cooperative banks associated in SGB Group had various core banking systems provided by 3 independent vendors. Additionally, they were also using a few independent digital banking solutions delivered by different software houses.
In 2019 PSD2 implementation provided an opportunity to introduce a unified interface access to all the banks, members of the SGB Group. Therefore, it was then decided to extend the scope of services designed by SGB HUB. The development was to be used for digital transformation while developing various central projects, including SGB Mobile Banking
Milestones:
2019
Listopad
Rozpoczęcie projektu Bankowości Mobilnej SGB; rozwój bankowości mobilnej i jej backendu.
2019
Grudzień
First demo of the app with limited functionality was delivered to the Bank with working activation process
2020
Maj
Przejdź na żywo! Pierwsza wersja aplikacji została uruchomiona na potrzeby fazy projektu Friends & Family, w którą zaangażowanych było 2000 pracowników.
2020
July
Official launch of the SGB Mobile Banking app for 76 banks in the App Store and Google Play.
2020
August
Application became available to more than 100 banks and it is still expanding its range.
2021
October
Clients of 145 banks received access to the mobile platform. Constant implementation of new features.

Wdrożenie: 6 miesięcy od startu do MMP Go-Live!
The main idea behind designing the application functionalities was to fulfil basic transactional needs of banking clients and allow day-to-day banking operations. The remaining features were scheduled to be released in the following months according to SGB's business strategy milestones.
It took 6 months to develop & deliver Minimum Marketable Product that was tested by 2000 bank employees during Friends and Family phase and then in July offered to real customers.
The application delivered in May 2020 has provided SGB Group clients with access to personal accounts, saving accounts, FX Accounts, debit and credit cards. The design of the application has been a result of a close co-operation of the UX/UI Ailleron experts with SGB Bank representatives. It was organized using the Design Sprint methodology and has been proven effective with tests of prototypes performed with end users.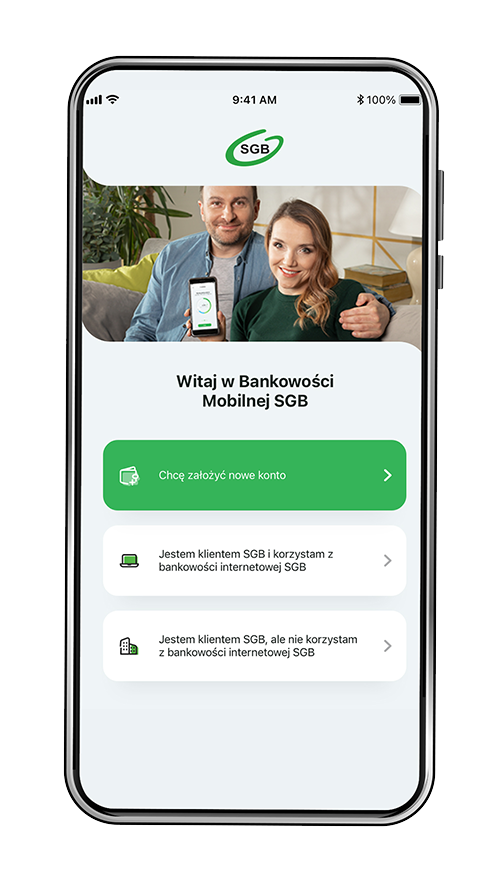 The application also included a set of features allowing clients to have a better control over their payment cards. Those include:
Activating payment card
Setting online transaction limits
Requesting instantaneous cards restriction
Temporary blocking/unblocking.
Users could also monitor the e-wallets containing their card details and manage them effectively.
Implementation: rapid evolution after the launch
Between July 2020 and September 2021, SGB Bank & Ailleron common team entered the next project stage. The mobile application has been further upgraded with a number of functionalities.
Those include among others:
online debit card issuing
3D Secure authorizations
COVID-19 module
eKYC process for opening a Mobile Account,
Mobile Authorization for Internet Banking in the banks with Novum core banking system (majority of the banks in the group),
Active Challenges module (Garmin Connect integration),
Autopay (automatic payments for highways and parking lots),
BLIK – instantaneous transfers to mobile phone numbers.
The set of planned features is in the pipeline in various development stages.
Ailleron also delivered a product called Campaign & Notification Manager. It enables authorized employee to manage mobile push campaigns and mobile push & SMS notifications templates. The feature was expanded with the option of managing in-app splash screens and banners. Therefore, it provides a comprehensive communication channel for marketing content.
Współpraca z Ailleron to świetna okazja nie tylko do rozwoju aplikacji SGB Mobile, ale także do zdobycia doświadczenia przez oba zaangażowane zespoły. Naszym celem jest wdrażanie nowych rozwiązań i funkcjonalności, optymalizacja procesów i dostarczanie naszym klientom najlepszego produktu
Artur Józefowski
Director of Mobile and Internet Banking Bureau at SGB Bank S.A.

It is a great distinction and commitment to work with SGB Bank, so we will make every effort to maintain the pace of development, the highest level of support and provide new, unique functionalities for clients of SGB cooperative banks
Maciej Kasprzak
General Manager of Challenger Bank Division at Ailleron

List of SGB Mobile application major functionalities provided by Ailleron throughout the project with SGB Bank
Mobile banking applications for iOS and Android

access to current, FX and saving accounts (transactions history, internal and domestic transfers)
activate and use BLIK (Polish Mobile Payments standard)
payment cards management (transactions history, activation, limits management, cards restriction/temporary blocking/unblocking)
E2E digital and self service activation using PSD2 extended interface
eKYC and online mobile account opening
mobile authorisation – for operations performed in Internet Banking in ca 100 cooperative banks
3D Secure authorization
Online Debit Card issuing
Google Pay / Apple Pay in app provisioning
Active Challenges module – integrated with Garmin Connect
supporting physical activities in post pandemic times
Autopay – automatic payments for highways, car washes and parking lots
BLIK payments and P2P instantaneous transfers to mobile phone number
Authorization Server
Subscription Manager

Back office module for bank employees
Parametrization of major functionalities per cooperative bank
Campaign & Notification Manager

Razem stwórzmy łatwe
i przyjemne doświadczenia finansowe!
Powiedz nam, czego potrzebujesz, a my się z Tobą skontaktujemy.

Powiedz nam, czego potrzebujesz, a my się z Tobą skontaktujemy.